Lancs Industries will be an Exhibitor at and Sponsor of the 22nd Annual Contract Pharma Contracting & Outsourcing Conference September 21-22, 2023 at the Hyatt Regency Hotel in New Brunswick, New Jersey.
Please stop by booth #61 to see the latest innovations in custom pharmaceutical containment and isolation manufacturing and learn about our products for manufacturing efficiency and workplace safety.
We'll be talking extensively about our products including our pharmaceutical isolators as well as flexible isolators, machinery and equipment enclosures, transfer bags and so much more.
Learn how our pharmaceutical containments and isolators can protect your employees from exposure during the extensive manufacturing process. Talk with the experts who will be working to create your customized pharmaceutical containment and see how our products are used. We also offer case studies so you can see how flexible our pharmaceutical containment systems are! From laboratories to disease control centers and the skin care industries, our systems have helped countless businesses protect their most valuable assets, their employees.
With over 50 years of experience, our team can help you create containment and isolator systems which work best for your business. Talk with us more today or at the conference to see what we can create for you.
And, if you didn't already know, last year's conference had near-record attendance, with a sold-out exhibit hall featuring 154 contract service providers, along with speakers and sessions covering manufacturing, packaging, laboratory services, and other industry topics. We hope to see you there! Check out the 2023 agenda.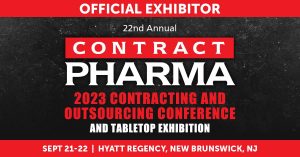 Subscribe to our Newsletter
Get industry updates and new blogs straight to your inbox.
"*" indicates required fields